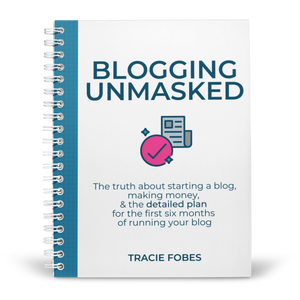 Blogging Unmasked
Regular price
$27.00
$0.00
You've been blogging for less than six months. You know there are things you need to know but you aren't sure where to focus your time. 
There are thousands of posts and courses out there but they aren't telling you what you need to know -- what to work on now.  They don't share the ways you make money, at least not in enough detail for you to know what is going to work best for you.
Here you sit, frozen in time because you are quite simply, overwhelmed. All you want is for someone to tell you "Go here. Do this."
That would be helpful, wouldn't it?  If only someone would tell you:
Can I believe that blog post about making thousands a month blogging?
How do bloggers make the money they talk about (and will it work for me)?
What should I focus on at 4, 6, or even 20 weeks into my blogging journey?

Blogging Unmasked answers these questions and more. And, it does not just answer them, it helps you to think about your blog so you can turn it into a profitable business.  
The guide covers:
The truths behind those income reports

Why you should blog and what it will take
How long it takes to get traffic and make money
The income opportunities you can implement on your site
A monthly action plan for the first six months of your blog so you know what you should focus on, every step of the way
Includes Worksheets and an Implementation Planner
Each section shares insight and knowledge you need to know how to pivot your blog, followed by a worksheet that guides you to determine how to apply the teachings to your blog.  
You started your blog to make money.  Don't wait a year before you realize you have missed important steps along the way. Create your action plan today and make the smart moves for your site.

*This is a digital download that will be sent to you immediately after purchase. Nothing will be mailed to you.  In addition, since this is a digital product, it is ineligible for refunds.
---
Share this Product
---
More from this collection